---
'Last night was No Joking Matter'
Written by WZND Newsroom on September 9, 2020
"NORMAL, Ill.- Last night members of the NELK Boys, drew large crowds around ISU's campus and at the Lodge.
The YouTubers drew crowds of individuals without masks but were later dispersed by local law enforcement.
This morning Governor JB Pritzker and local leaders, including ISU President Larry Dietz, commented on the crowds.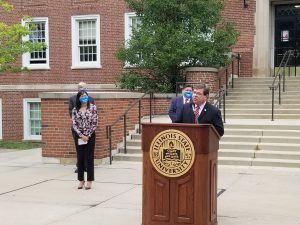 "Mayor Koos and I were talking about that (the investigation and incident) this morning, and so the gathering of the so-called YouTube celebrities occurred and the NELK Production company has a reputation for prank videos but this was no joking matter when residents invited them to the Town of Normal," said Dietz.
A crowd of more than 70 gathered at a local apartment complex late last night, approximately 12:30 a.m. There were sirens and law enforcement present, causing hundreds of students to run.
"The Normal police arrived and the crowd dispersed," said Dietz. "It really gives me no joy to convey my great disappointment in the actions of those who gathered."
However, Dietz says that a bulk of the students at ISU are doing what campus administration expects them to do. .
so, this happened last night… pic.twitter.com/PRDuTnUmjD

— Barstool Birds (@BarstoolILLSt) September 9, 2020
However some students, like Lodge resident Anna Adams feels they were just here to "boost morale." Adams said she did not attend the gatherings but knows the YouTubers only stayed for about 10 minutes in different locations to greet people.
According to another Lodge resident and ISU student, Gabe Ayala, the YouTubers tweeted they would be in Chicago yesterday. Later one of the members tagged ISU on their Instagram story early evening visiting a bar or a restaurant. The members then went to a few house parties before they ended up at the Lodge. According to residents, the gathering began under an apartment balcony.
"After a bunch of people showed up. They moved to be in the parking lot by their van where a bunch more people showed up," said Ayala. "People were literally running there. There were a bunch of cars that just got left randomly in the Lodge 2 parking lot as people ran out to Lodge 1. Even the towing companies showed up, the crowd cleared quickly as the cops showed up."
An Instagram story made by Kyle Forgeard, a member of the NELK Boys, shows crowds surrounding a van and several students not wearing masks.
In the investigation, if any individuals are identified they will be held accountable to the Student Conduct Code. Dietz says, in talking with the mayor, there is a possibility of other "potential sanctions" the Town of Normal will issue as well.
Governor Pritzker also commented on the NELK Boys gathering.
"The Town of Normal has done a good job to increase enforcement, and making sure the message is getting out there and that people are held responsible," said Pritzker. "We certainly don't want to arrest people who aren't following the provisions of mask and gathering mandates, but at the same time we need to make sure the message gets across that this is an insidious virus."
Pritzker explained gathering in large groups just heightens the possibility of spreading COVID.
"If you have a 6% or 7% positivity rate, that means when you walk into a room of 100 people there are going to be six people in that room who have it," said Pritzker. "You're going to run across someone who's got it."
Pritzker says that personal responsibility has got to an enormous component. He says it's very simple to adhere to what government has asked you to do.
"Really we've asked people to do three things: take personal responsibility for wearing a mask, maintain social distant and washing your hands," said Pritzker. "Those are three hugely, important things."
He also reminded everyone in the crowd that Illinois has enough testing as they plan to expand with saliva testing.
According to Pritzker, saliva testing is planned to expand across the state and towards college campuses, which includes ISU. In March, Illinois had a testing capacity of about 5,000 a day, now the capacity is at nearly 50,000 a day.
Pritzker also said there was a discussion about a vaccine for COVID to be available before the election. While no dates were solidified, he did emphasize the importance of distribution.
"I think that's coming from somebody running for reelection, and the reality is that we are going to make sure whatever we are distributing is safe," said Pritzker. "We want to make sure the people who are most vulnerable are reached first and the people at risk."
---