---
New Mural on Bloomington West Side
Written by WZND Newsroom on October 20, 2020
Photo courtesy to West Bloomington Revitalization Project Facebook page
BLOOMINGTON, Ill.- A new mural on Bloomington's west side isn't just a reminder of the racial inequality that is rooted in the nation, but also the wall art that expresses the voices of children from the Bloomington-Normal Boys and Girls Club.
IWU student Yovana Milosevic provided guidance to many young poets, mostly middle schoolers. She used videogames like Fortnite to try and relate to the kids and get to the expression abilities. Then, progressing, she asked them how they felt about 2020.
"There was a lot they had to say. It was difficult to watch, but I was so happy they were able to get their feelings out on paper and now they're going to be able to get past that," said Milosevic.
The poem is called "Holding On To Each Other" and this poem is written in white on the mural.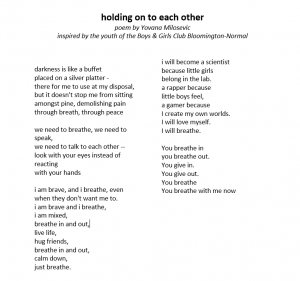 This poem was given to local artist Bruce Clark who took on the responsibly of putting the children's feelings on the wall with paint.
"It's easy to say, 'Hey Bruce great job on the mural' and I'm like 'No, no, no I do have skills and abilities that I am able to leverage, but the individuals you need to give more recognition to is the ones who spoke in this direction,'" said Clark.
In the mural there are major color schemes that were deliberate on Clark's behalf.
He says the two children in the corners of the mural are painted in vibrant colors to show the future and hope children pose in the fight against racial injustice.
"Along with their vibrancy, I wanted to have an articulation. There is a whole lot of breathing and expression and I wanted to lay that on top of the night time backdrop," said Clark.
In the art you can see the face of George Floyd is wrap in a cocoon of conversations, this symbolizes the conversations Milosevic had with the kids in her poetry workshop.
---