---
A Night with the NELK Boys
Written by WZND Newsroom on September 9, 2020
Photo courtesy of @Nelkboys Instagram page
NORMAL, Ill.- The NELK Boys are a group YouTubers that had massive crowds gathering in the middle of a pandemic near Illinois State University's campus.
According to ISU student Adri Costa, the NELK boys showed up to an underground frat and there were about 200 people there. NELK is on a road trip and stopped in Chicago yesterday afternoon, Sept. 8, 2020, then made their way to ISU's campus last night.
"I'm a huge NELK fan, huge, but I didn't even go to see them last night because of the amount of people," said Costa. "Also, they don't break laws like people say they do. It is all legal, and if it was illegal they wouldn't be on YouTube."
According to Costa, some misconceptions about illegal activity include, "a lot of pot-smoking, but they literally live in California so it's legal," said Costa. "They do pull pranks but they also help so many people out like feeding the homeless randomly or giving away money to people who actually need it."
Another fan and ISU student said she got to go and saw them outside an apartment on Mulberry Street.
This video was taken near Sigma Alpha Epsilon and shows students running from local law enforcement after they broke up a large gathering.
"I got to be right next to one of the boys Salim," said another ISU student. "It was crazy they were all screaming and shotgunning beers. The best part was being able to see Salim and I even got to take a selfie with him."
They believe everyone should be careful with COVID and thinks the NELK Boys should have not visited.
"But they did come so people were going to see them. It was like a one-time thing that people didn't want to miss out on," they said. "People may judge me but I don't regret my decision. If I got sick that's on me and I will quarantine. All the people that were there were college students. We were not around older people who could potentially get really sick. Everyone knew the risk of going and still went."
They believe
ISU president Larry Dietz
should suspend the kids who invited NELK to their apartments. Costa believes Dietz and the Town of Normal's investigation is fair.
"The amount of cases is going to skyrocket again like it did almost two weeks ago," said Costa. "I don't blame the NELK Boys really but I do blame Dietz for keeping the school open at this point."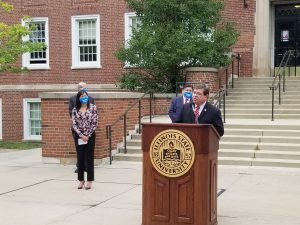 Another student thinks the school is not doing enough to prevent the spread of COVID.
"Inevitably college kids are going to a party so if they decided to bring us back, then we are just going to have to deal with the consequences. U of I (University of Illinois) implemented a system where some bars and restaurants require proof of negative test before entering. It's a very simple but effective way of the prevention of the spread."
 NELK's content is generally published to the group's self-named YouTube channel.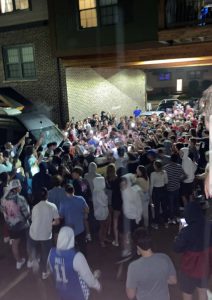 However, due to the nature of the content, almost all of their videos have been demonetized and age-restricted by YouTube. Several of their videos have also been removed completely for violation of YouTube's terms of use. In fact, NELK has gotten into legal trouble on multiple occasions.
Most recently, on May 14, 2020, Forgeard, Deleonardis, Salim, Cousin Jay, and four cameramen were arrested for disturbing the peace while filming a prank at a Target store in the state of Mississippi. They were later released on bond.
As far as the philanthropic contributions, NELK donated portions of their merchandise earnings to breast cancer awareness. This past April the group also hosted a beer pong event to accumulate a fund for pandemic relief.
Some students say they needed to take advantage of a "once in a lifetime opportunity" others are saying, "for a night it seemed like life was back to normal."
---