---
What You Need to Know About ISU Earth Week
Written by WZND Newsroom on April 19, 2021
NORMAL, Ill.- As Earth week approaches, ISU Sustainability has planned an array of opportunities and events for students to partake in. These events will be taking place all this week, from April 19-23. ISU Sustainability hopes to facilitate environmental education and provide guidance on how to live sustainably while on campus. 
"From these events, we hope to provide students and faculty of ISU with resources both material and informational that they can take with them in their daily lives. It is very hard to know where to start to live a "green" life, and the Office of Sustainability has been working to see exactly what they will look like on our campus," said Xavier Braboy, an ISU Sustainability representative, "Overall, we want everyone to see what ISU has to offer and that there is a way to live sustainably as a student, even during a global pandemic."
While ISU Sustainability is eager to share their resources and material, it has been difficult to face the logistical challenges that COVID presents. However, they are tackling Earth Week head-on and are taking all the safety precautions necessary to ensure a safe and informative environment. 
"With COVID-19 restrictions, every event has to be secured and approved by a board to make sure that all rules and protocols are being followed to ensure social distancing. Most of the events will be outside, so we also have to worry about the weather," said Braboy . "I view Earth Week as the Festival ISU of the Office of Sustainability and it is just as stressful with COVID being the number one barrier."
On April 19, there will be four different environmental RSOs that will be set up with tables in the quad from 1-3 p.m. This will give students the ability to learn about these groups and the importance of the environment on campus. The RSO's in attendance will be Sustainable STATE, Student Environmental Action Coalition, Horticulture and Plant-Based State.
Jonathan Jerkatis, the Secretary of sustainability said, "The groups will be giving out some treats as well as sharing what their clubs are all about. The Sustainable STATE group will be showing off their pop-up gardens that they have built this semester." 
On April 20 the West Bloomington Revitalization Project will be doing free bike tune-ups from 1-3 p.m. outside of the fitness center. Jerkatis says they will be giving out free bike lights as well as the opportunity to win a bike. This event aims to educate about sustainable modes of transportation and provide easy tips on bike safety. 
On April 21, there will be three environmental RSOs tables on Schroeder plaza from 1-3 p.m. The RSOs in attendance will be Solar Car, Renewable Energy Society and Fossil Free ISU. This event provides students with another opportunity to learn about the various ways to get involved with the environment on campus. There will also be a webinar speaker,  Alayna Johnson, who will be discussing the current issues surrounding the environment. 
"There are some student and faculty panelists that have gone over questions that were sent in for Johnson to answer and that will be what that event consists of," said Braboy. "Johnson is a marine biologist who has a podcast by the name of How to Save a Planet and a newly released book called All we Can save. The questions will all center around climate action, and will draw parallels to the Black Lives Matter movement that has surged the world over the past year."
On April 22, three more environment RSOs will be tabling on Schroeder Plaza from 1-3 p.m. The RSOs in attendance include the Office of Sustainability, Student Sustainability Committee and Redbird sips. There will also be a free virtual screening of the documentary, Seeding Change. 
Devin Paoni, the President of Student Environmental Action Coalition said, "This is a great chance to learn about environmental issues through RSOs like Plant-based @ State or Fossil Free ISU's divestment campaign." 
To finish off the week full of informative events, on April 23, Fix It Friday will be held in the ISU Bookstore at the Bone Center. This will allow students the opportunity to learn how to mend and repair old clothing items in an effort to encourage sustainable habits.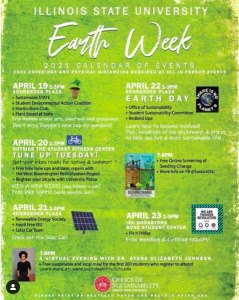 Make sure to check out the events and opportunities to participate in ISU Sustainability's celebration of Earth Week.
---