---
The Wonder Weed at ISU's Farm
Written by WZND Newsroom on October 18, 2020
LEXINGTON, Ill.- Illinois State university's farm had a visit from lawmakers…talking about the new and researched wonder weed.
Republican lawmakers, like Congressman Rodney Davis and Congressman Darin LaHood, went out to university farm In Lexington to till up information on the penny cress weed.
But it's not just a weed.
"We can now turn this weed into a canola product, so it has oil and protein meal that has value for animal feed and for fuels," said ISU genetics professor John Sedbrook.
ISU president Larry Dietz says the university has 10 research fields dedicated to the cover cress crop. Over $20 million has been put toward penny cress. Why? Further research will prove this crop to be profitable to farmers. Dietz says he is proud of the money and time devoted to pennycress.
"Allowing us to do more research out here, and I want to say also a word about the eight employees and all the students who work out here and do their work," said Dietz.
But how can a little plant have all these jobs?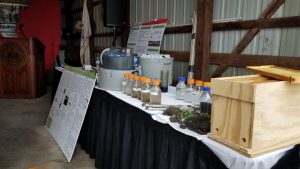 "Because we know what's happening in both Arabidopsis and canola, we can literally copy and paste that information into the pennycress genome," said covercress researcher Michaela McGin. "Making those targeted edits and then producing a canola covercress."
President Trump has please farmers by reduce the trade deficit with China, but the overall deficit had grown.
"If you look at the trade agreements the president has put in place, USMCA, with Mexico and Canada, that's great for our farmers," said LaHood. "You look at the phase one deal with China, China is on the hook to buy $60 billion worth of farm product between now and next year."
---