---
Jackie Gunderson running for Bloomington Mayor
Written by WZND Newsroom on February 15, 2021
Photo courtesy to Jackie Gunderson Facebook page
BLOOMINGTON, Ill.- Equality has been the focus of most conversations this past year, but what about equity? This is one of Bloomington Mayoral Candidate Jackie Gunderson's top priorities.
Gunderson has a background in special education, and is the director of the Penguin Project of McLean County which is a non-profit helping children and young adults with developmental disabilities have access to the performing arts.
"It has given me the opportunity to see some really valuable places where people in our community are often left behind," said Gunderson.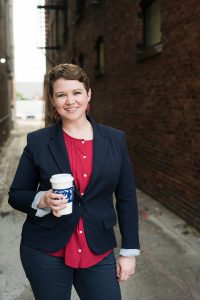 Gunderson was not always planning on running for mayor, but decided to do so for the people left behind. She says she believes the government should be serving the people it represents, and those people should have access to the government.
"I have seen a lot of places where people are left out of the conversations that directly affect their life," said Gunderson.
This is one of the reasons why she is running for mayor.
"To bring a fresh perspective to making sure those people that have typically not had a seat at the table, get an opportunity to be a part of the decision making process that affects their day to day life," said Gunderson.
When she saw the candidates for Bloomington Mayor announced, and realized their values did not align with hers, she said she had to step up.
As Mayor, Gunderson would take a people centered approach.
"I believe in Equity. When we think about equality, everybody gets the same treatment," said Gunderson. "When we think about equity, we think about the neighbors who have slipped through the cracks."
She would like the person leading Bloomington to uplift all of the people, in order to help those stuck in cycles of poverty or abuse.
Pandemic response and support from local government for the community is another area that equity is important to Gunderson.
"We need to have economic and social aspects tied to this. It's not just making sure the business owners survive," said Gunderson.  "It's making sure the 200 families that are experiencing housing insecurities aren't freezing to death."
Public Safety for Bloomington needs to be re-evaluated according to Gunderson, and this doesn't just mean the police department. She said this involves giving access to people with disabilities, and helping those who need somewhere to live.
"Local elections matter. They give us the opportunity to make the changes at the local level that support literally the people that you run into at the grocery store," said Gunderson.
---