---
ISU Soccer dominate Indiana State, step closer to MVC Title
Written by admin on October 17, 2019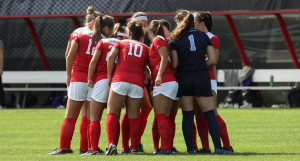 NORMAL – The Illinois State soccer team breeze past the Indiana State Sycamores in a 3-0 beatdown Wednesday evening in Terra Haute, Indiana. The Redbirds latest win now extends their win streak to 9 games and keep their perfect 4-0 conference record.
Going into the game last night's game, we spoke with Redbirds forward Natalie Vaughn-Low. She is having her best season record with five goals and four assists so far this season. To beat the Sycamores, Vaughn stated that, "we know that we'll find a way (to win) because we've had games where we have and haven't dominated, and we've still found a way…it's a matter of stepping out there and hitting them hard to second the whistle blows". I asked Natalie her scoreline predictions, and she said, "…we're going to get a shutout, I'll say 3-0, and I'll get 1 (goal)". Natalie's guess could not have been more accurate in the shutout victory, as she scored, while Sarah Lafayette and Hannah came off the bench to both contribute goals. Lafayette and Abby Basler both earned themselves assists in the game too.
Also, Senior Goalkeeper Haley Smith has set a new school record for all-time shutouts, collecting her 24th of her ISU career. Smith also recorded five saves in Wednesday nights win. Despite not lifting a single trophy yet this season, the is experiencing lots of success.
Speaking to Natalie on how they've been able to handle all their success during the regular season, she said, "our excitement before each game we're listening to music and getting pumped in warm-ups…we know we have to come out and perform so we try and get our minds right before that so when we do step out on to the field we're already ready to give it our all".
The next matchup will be the battle of the undefeated, as the Redbirds host Loyola Chicago Sunday afternoon at Adelaide Street Field. Both teams are currently tied for first place in the Missouri Valley Conference and have recorded five straight shutouts.
---