---
ISU Soccer advance to the MVC Final!
Written by admin on November 9, 2019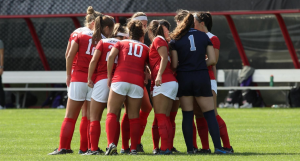 The second-ranked Illinois State Redbirds defeated the third-ranked Missouri State Bears on Friday afternoon as the game came down to the wire in a 4-3 overtime win. Kate Del Fava and Natalie Vaughn-Low both tallied two goals and an assist in their conference tournament victory.
"The win tonight was tremendous," said head coach Brad Silvey. "Being able to play in a championship-caliber game and find a way to win, regardless of how it comes, is obviously big-time for us. At the end of the day, our team effort and willingness to battle even when our backs were up against the wall is special."
The game got off to a quick start as MVC Player of the Year, and Redbird senior Kate Del Fava scored in the 19th minute as Natalie Vaughn-Low slotted a through ball between Missouri State defenders, Del Fava then rounded the keeper to slot the ball home to make it 1-0. Just seven minutes later, Abby Basler sent in a ball from the corner flag, finding Del Fava head in front of the goal to redirect the ball into the back of the net, putting the 'Birds up 2-0. In the 68th minute with the Redbirds up 2-1, Del Fava drew a foul in the box to then score the penalty kick, making 3-1 and her 17th goal of the season. However, after two goals by the Bears in the last 18 minutes to make it 3-3 at the end of regulation.
Natalie Vaughn-Low stepped up with a goal that we should be seeing on ESPN Sportscenter Top 10 on Sunday. Vaughn-Low hits a banger from the corner of the 18-yard box for the ball to end up in the top corner to send the 'Birds to its first conference final since winning the tournament in 2016. The Redbirds will play in the MVC final on Sunday, Nov.8th, at 1 p.m. against the Drake Bulldogs. The Bulldogs advance to the final after beating the Loyola Ramblers 1-0 on Friday afternoon.
---