---
Aftermath of Derailment for Residents on Hester Avenue
Written by Camberyn Kelley on February 14, 2021
Photo courtesy to Fire Chief Mick Humer 
NORMAL, Ill.- Residents on Hester Avenue are in destress after quickly evacuating their homes after a fire sparked this morning.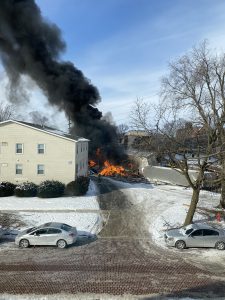 The 600 block of Hester is consumed with smoke, fumes and frantic residents. Hester Avenue residents that were  15-20 ft from the fire were shaken when the train derailed yesterday, but continue to seek answers shelter after the two-day mayhem.
April Torres was in her room on FaceTime with her parents and went to look out the window and she saw orange flames and black smoke. Her immediate reaction was to inform her sister, put shoes on and run out. 
"I started banging on people's doors and I got a few people to come out and some people came with me. The people across the street were gracious enough to let us stay in their apartment. One of the guys from the apartment came back with me–his name is Matt. We went back to the apartment to bang on all the doors," said Torres.
Torres said the fire department did not tell her or residents in the building to evacuate and she felt that the first responders let her down. Torres says their number one job is safety and she did not feel safe. Some Hester residents weren't evacuated as you might of expected.
"We had to take it upon ourselves to bang on people's doors and risk our lives and tell them to get out. They were more concerned about the fire which I understand, but at the same time–there are people in these apartments."
Torres mentions she did not get everyone out of the three-flat building, but authorities came in to tell some residents to expect to evacuate if need be.
Another Hester Resident, Julia Miller did not know about the fire until her roommate was Snapchatted about the incident and warned her that they should evacuate.
"We got a knock at our door telling us to evacuate and we thought it was someone from our building but it was people from across the street. Telling us, "Oh my gosh, your parking lot is on fire." And by the time we got outside it had spread. It was huge, the flames were above our apartment building," said Miller.
Miller says the flames were almost touching the electrical lines above the building. She also asked authorities at the scene what was the cause and was told that they did not know the cause.
"Thank God, thank God that these people from across the street let us come over. We've been staying in their home ever since."
Miller saved her bunny before her way out of  her apartment to take cover.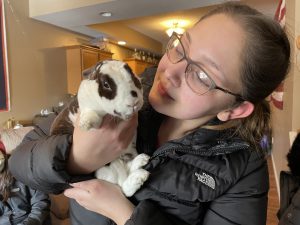 Across the street, Matt Resch sheltered about five people as they ran for cover from the fire. He and his girlfriend saw everything happen and ran downstairs to help people in need. There was a person with three dogs that needed help–Matt, his girlfriend and Torres were able carry them over.
"We told them that they can get out of the cold and come in. They came over and told me that there were still people inside, so we went back over and we started pounding on the door to try to let them know that the best decision was to get out." 
Resch said that he thought it was an intentional fire and was also not given answers at that time.
"We were contemplating on pulling the fire alarm but decided maybe we shouldn't."
Resch and Torres said that the fire alarms in the apartment did not go off which meant that many residents did not know what was happening.
"It is not safe for anyone to be outside in this cold right now and I just wanted to do what's right and help people because I would hope they would do the same for me."
He says that the fire department is trying to do the best they can after two incidents in the last 48 hours but wishes there was more communication for people to feel safe and be safe. He hopes the owners of the apartments come forward to talk to the people paying for these spaces.
"Keep people's best interest in your heart and do things that you would want others to do for you. Be a good neighbor."
Normal's Fire Chief Mick Humer says that a train car with empty paint cans that had not yet been sent to the factory to be filled with paint and labeled was derailed. When the car was being removed–the semi-trailer car next to it had a refrigerator unit on it. The department thinks when removing the paint car it ruptured the refrigerator car thus causing the fire.
"We had two semi  trailers that had been on flat cars that turned over and caught fire and we have been trying to gain access because the fire was inside the cars and it hadn't broken out of there yet. It took us a while for the railroad to come in with a backhoe and tear those apart.
Humer says they are tearing the pallets and things that were in there out and then hosing them down to make it safe to put out. Steam is still coming out from the heating material and water and ice. 
There was fire damage on the vinyl siding of the apartment but the department was able to get it out quickly to protect the exposures. Humer says they have talked to the apartment management and checked to see if the building is safe for residents.
---