---
UPDATE: Train Derails in Uptown
Written by WZND Newsroom on February 13, 2021
Photo courtesy to Uptown Station Facebook page
NORMAL, Ill.- A major train derailment has occurred near Hester Avenue and has resulted in railroad crossings being blocked throughout the Town of Normal by the remaining train.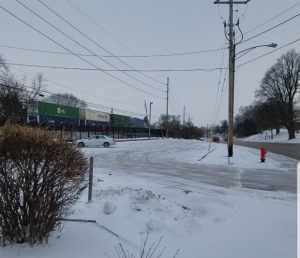 UPDATE
Railroad crossings are closed at:
University St.
Fell Avenue.
Broadway St.
Linden St.
College Ave.
Mulberry St.
Beech St.
Willow St./Fort Jesse Rd
The railroad underpass at Vernon Avenue and Beaufort Street is also closed.   
While there are no hazardous materials involved in the derailment, there are power lines down, and portions of the train or track may be energized and pose an electrocution hazard.  Authorities may shut off power for emergency crews to work.
Find alternate routes and avoid the area so emergency crews can work. This will be an extended operation. There are no injuries reported, no hazardous materials involved and no current power outages.
At approximately 5 a.m. on Feb. 13 Illinois State University was made aware of a cargo train derailment in Uptown.
Due to the length of the train, multiple intersections are closed.
Main Street and Center Street intersections remain open at this time.
Please avoid Uptown Normal intersections until further notice. At this time, there is no imminent danger to the campus community; however, students who live in close proximity with concerns should email the Dean of Students Office.
Staff are monitoring this email.
---