---
Restore Illinois Tour stops in Normal
Written by admin on October 23, 2020
NORMAL, Ill. – Last night, the Corn Crib was filled with flags and signs in support of President Donald Trump.
The Corn Crib was the ninth stop for the Restore Illinois Tour featuring a free screening for the third and final presidential debate. Organizers say there over 900 attendees at the event.
Before the debate began the event had speakers including state Representatives Darren Bailey and Blaine Wilhour, raffles, and concessions.
Local supporters like Joseph Kessinger, say they expect President Trump to win by a landslide.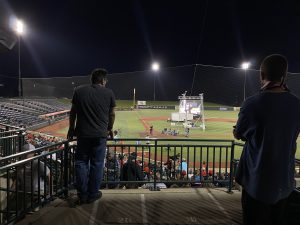 "Trump kind of slaughtered him in all the debates I've seen. I can't see him (Democrat Presidential Candidate Joe Biden) keep a straight thought really, so I'm not too worried about it," said Kessinger.
Speakers advocated against the progressive tax, the closing of the state during the pandemic and mail-in voting.
"Realistically, it should be a landslide. The only way Joe Biden will win is if he cheats and that's where the mail-in ballots come in," said local resident Joe Gross.
Speakers and supporters also emphasize the importance of being registered and going out to vote on Nov. 3.
"I know a lot of people who are like 'Oh I'm just not interested in politics'. But it's literally the future of our entire country. For you to just ignore it and not go vote is so detrimental," said Joshua Vasquenz..
---