---
Redbird Baseball reveals new look for the upcoming season
Written by Ben Hudy on February 16, 2023
Images courtesy of Illinois State Baseball on Twitter
NORMAL, Ill. – On Tuesday afternoon, the Illinois State Baseball team revealed a whole new look to their set of jerseys for the upcoming season.
The Redbird baseball team took to social media to showcase their all new cream colored jerseys to go along with their retro ISU baseball caps. The video featured senior pitcher Derek Salata and junior infielder showcasing the new jerseys and all the different aspects to them.
The look that the Redbirds will pull off with this new gear will be cream tops to go along with cream pants and a red belt. The jersey will also feature red lettering to go along with red stitching. Featured on the jerseys will be Reggie Redbird who will be located on the left side of the players chest. Topping it off will be a Missouri Valley Conference logo on their left sleeve.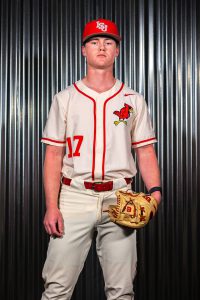 "I really like the new cream uniforms," said Salata. "To go with the throwback ISU hat, we should be a sharp-looking team and I'm excited to get to wear them at Duffy Bass Field for my last year."
The Redbirds went back to social media to highlight their jerseys in an ice cream shop. Salata showcased the new cream colored jerseys in the shop.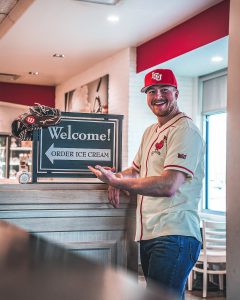 While Salata and Nichols were the players highlighted in the new promo, a ton of the Redbird players took to social media showing excitement for the new uniform through comments. Sophomore outfielder JT Sokolove went to his Instagram story and said, "so clean." Meanwhile, sophomore outfielder JP Gauthier said ""YUPPPPPP." A ton of the players showed enthusiasm for their new uniform set for the season.
The new uniform allows the Redbirds team a new found assortment of jerseys that they can wear on any given basis. The Redbirds now have multiple jersey, pant and hat options that they can choose from for their games this season. The new cream jerseys are expected to be worn during the teams Sunday home games but could be during other home games.
The Redbirds open up their season on Friday against Austin Peay at 4 pm. The Redbirds first home game will be on March 17 versus Eastern Illinois.
---