---
Redbird Athletes hold march in support of Black Lives Matter
Written by admin on September 5, 2020
NORMAL Ill.- Illinois State University student-athletes held a march across campus in response to the comments made by Athletic Director Larry Lyons and the athlete's list of demands that followed.
The march began with a crowd of supporters meeting at Redbird Arena where track & field athletes Luke Nelson, Taylor Weaver, and Kimathi Johnson gave speeches. The crowd then marched across campus and gathered in front of Hovey Hall where several other athletes spoke.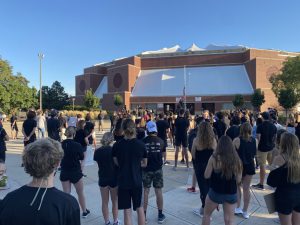 Redbird Volleyball player, Paige Hilliard spoke on how the Black Lives Matter movement is a way of strengthening their community.
"I hope that when we say Black Lives Matter you do not see this as a declaration of others not mattering, but as uplifting the black community to the same position as others," said Hilliard. "Because if all Redbird lives matter why are we here?"
Julian Haynie, a player of the Redbird football team, outlined the trust between Black athletes and administration. He explained how that trust has now been broken.
"Part of being a student-athlete is that when we play a sport we love that reality isn't there with us. We are free from all worries outside of the sport. Part of the reason we play college sports is to get away from reality and that we feel we are coming to a safer place than home," said Haynie. "So to have someone like Larry Lyons take Black lives matter and invalidate it on more than one occasion is essentially telling your Black athletes you don't care about them or what they face in their everyday lives."
Cross-country and track & field athlete Kimathi Johnson, who has been on the forefront amongst athletes speaking out, explained that this movement doesn't just stop when their list of demands has been met.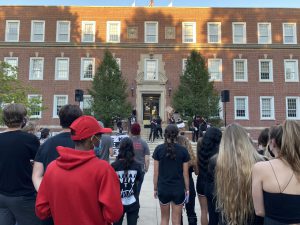 "It does not stop here or after this march. It does not stop after the athletic department reforms. It does not stop when Black Lives Matter movements stop. It does not stop when the campus becomes more supportive of diversity," said Johnson.  "It stops when injustice stops. It stops when women can walk down every college campus in America and feel like they are safe from sexual assault. It stops when immigrants are not treated like they are subhuman at the border. It stops when our LGBTQI community feels accepted by the world around them."
Track & field pole vaulter Luke Nelson spoke on how he and other white students who may not know what their Black friends are going through can be there for them as an ally.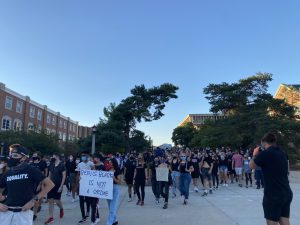 "Put yourself on the line with your friend, a line that your friend cannot choose to step off of because they were born on that line. It's stressful being on that line, less stressful for me because I know that at any time I could choose to step off," said Nelson "Take some of that stress away from your Black friend and sacrifice what you can to help them relieve some of that stress that comes with being born Black in America."
Johnson was optimistic that the march and the athlete's list of demands can lead to change.
"For the first time in my career at ISU, I see hope. I see people out here today who can make a change," said Johnson. "We can make a change but only if we stand together, only if we're ready to be uncomfortable when we're talking to each other."
The student-athletes plan to continue the discussion amongst their teams. They also plan to have their captains meet with representatives from administration to ensure their list of demands is met and the change can begin to take effect.
---