---
Rally for Jelani Day
Written by admin on October 6, 2021
NORMAL, Ill.-On Monday students and residents of Normal gathered together in Uptown after a mural of ISU graduate student  Jelani Day was taken down.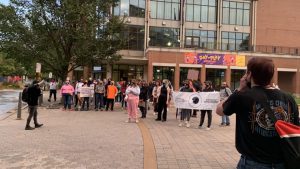 There were key speakers at the event ranging from residents, employers of the area, students, and more.
The community took time to commemorate the life of Jelani Day and Black Lives Matter. NAACP Bloomington-Normal President Linda Foster spoke about raising awareness on the injustices that African American people face.
"I don't want to hear about the lack of manpower because if it's yours, you'll find it. We will continue to stand up and speak up about the injustices. You should not be able to walk, drive, or be in your house, and not be impacted by what's going on," said Foster.
A resident of Normal and activist of Afro-Socialist organization, Antonetta Roundtree spoke about her experiences regarding her daughter's abuse in Normal.
She spoke about advocating for Black Lives Matter and  Jelani Day at Normal City Hall.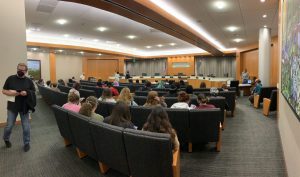 "My daughter was beaten and killed in the city of Normal in 2019–so I know what it's like to lose a child–to want your child to continue to be remembered and not forgotten. I understand what that feels like to be a mother; who just wants her child to be remembered, " Roundtree said.
Other student organizations in attendance include ISU PRIDE, BCA, and the Graduate Student Union.  The rally was interrupted by rain but the members of the audience continued the event.
Following the Uptown rally, the crowd moved to City Hall to speak up on the matter. Emotions rose as the gathering progressed.
---