---
Barbie Movie Soundtrack
Rosie Chappell August 22, 2023
Barbie Movie Soundtrack
By- Rosie Chappell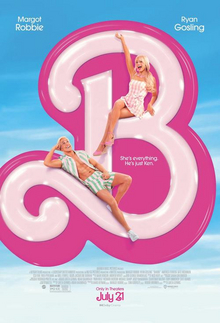 The iconic movie Barbie was released on July 21, 2023, and featured a star-studded cast. But not only was the cast star studded, but the soundtrack for the film also featured a slew of popular artists. From Billie Eilish to Nicki Minaj, this soundtrack has no skips! The album consists of 17 songs and has a running time of 44 minutes, 15 seconds. So, let's dive into some of the best songs on the album.
My favorite song off this album has to be "Speed Drive" by Charli XCX. It's a super upbeat song and honestly it gets me hyped. If you've seen the Barbie movie, then you know that this song plays during the chase scene. I love playing this song especially in the car, it's just super catchy.
Ok this one is just so goofy but so, so catchy. Ryan Gosling and "I'm Just Ken". I mean c'mon there is no reason that this song goes that hard. It honestly rivals "Man or Muppet" from The Muppet movie. I really recommend that you watch this whole scene from the movie when you listen to the song.
I cannot do this album review without talking about "Barbie World" by Nicki Minaj, Ice Spice, and Aqua. This is such an amazing remix of an iconic song. It modernizes the original while still keeping the classic feel of the song. This song plays at the credits of the movie, and it was honestly so hype. The song is, like most of the Barbie songs, super catchy!
Last but not least, one of my other favorites on this soundtrack is "Dance The Night" by Dua Lipa. This one is currently big on TikTok with many talking about the dance scene from Barbie with this song. This just has that Dua Lipa feel on it. It's a fun dance song with a super catchy chorus. It just works so well.
Overall, this is one of my favorite soundtracks! I definitely recommend checking out the rest of the soundtrack that's filled with more bops. I hope you enjoy this album as much as I did, and make sure to see Barbie for the full experience!
Favorite Tracks – "Speed Drive" and "Dance The Night Away"
Overall Rating – 9/10
---
---