---
Illinois State commemorates the life of Jelani Day
Written by admin on October 8, 2021
NORMAL, Ill. – Tears, memories, and the celebration of Jelani Day entered Redbird Arena Thursday night.
The family of Jelani Day attended the memorial in which they expressed their thoughts of their late son and brother. Carmen Bolden Day, Jelani's mother said that she wished she could have done something the day she found out her son was missing.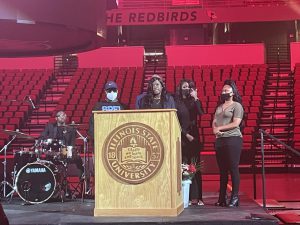 "I just wish that I could go back to Monday, August 23—hear him, talk to him. I could have kept him on the phone longer. If I could have planned something and I would have made him skip class and come to me. I just wished there were so many things that I could have changed.
Bolden Day voiced that she is grateful to the Illinois State University community for walking with the family when searching for her son. She says that Jelani was important to everybody not only her family.
"Jelani is missed so very much. His presence is missed so very much," said Bolden Day.
Seve Day the father of Jelani broke down at the podium explaining how a call he made to Jelani that changed his world.
"I don't know what I was doing Tuesday—I was not feeling well. But I did not call him Tuesday morning. I did not call him. Went to sleep, got up at 11:15 p.m., Tuesday. I said let me call him but it went straight to voicemail," said Day. "So the next day D'Andre calls and he's missing."
The 20th president of Illinois State University offered her condolences to the family but remained brief.
"We fear tragedies may be for all those we love and those calls are never expected. They have set our world off its axis and as much as we would like to return to that moment before we knew this terrible fact. We must accept that each of us is changed from this moment on and our community mourns the tragic loss of Jelani Day," said Kinzy.
Jelani's former department of Communication Sciences Disorders paid tribute to him by reminiscing on the times they had together. Amanda Regez who was a fellow classmate of Jelani spoke on how personable he was.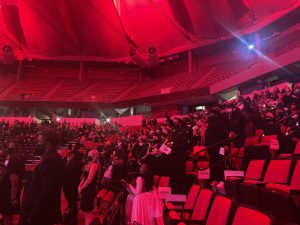 "Jelani took care of us like we were his family. At the end of each class, he would rush to stand up and hold the door for each of us. He greeted everyone with a "hello ma'am" and kind smile," said Regez.
Regez also recounts a fun time where she saw Jelani.
"One day when some of us were walking to class, Jelani drove by us and yelled "hey ladies" and waved out the window while dancing to his music. This is how we remember him—happy, positive, and hardworking," said Regez.
Student organizations also chimed in to talk about what ISU students can do to get justice for Jelani Day. Association of Latinx American Students President Ximena Sanchez Ramirez expands on the importance of speaking up.
"Use your voice, the voice is the most powerful tool that you have and no one can take that away from you," Sanchez Ramirez.
The theme of the night was "He will carry us through" after a musical performance from The Jelani Memorial Ensemble.
---