---
Fear the Bird Event Kicks off the School Year
NORMAL – Incoming and current Redbirds flocked into the Bone Student Center for 'Fear the Bird Kickoff' Sunday afternoon. Events like this during Welcome Week keep students busy while getting them accustomed to campus.
"I thought there was a lot of different fun activities to do out on the quad and off the quad," said Freshman Mikaley Smith "It's just been really eventful."
Smith added that she's excited about this new experience and looks forward to meeting new people.
In addition to giveaways and free food, the first 200 students received a limited edition 'Fear the Bird' shirt.
Throughout the event, Starbucks brought out samples of their new drink inspired by ISU's mascot Reggie Redbird: The Reggie.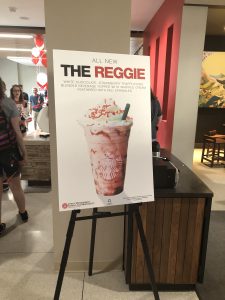 Although the 'Fear the Bird' campaign is in their 13th year, this was their first year as part of welcome week. Event Dining, Management and Hospitality (EDH) thought it would be a great way to introduce the program to the campus.
"It's a fun way to welcome them," said Marketing Coordinator for EDH Jenna Koons. "We're here to be part of your living room, your home. Whatever you need we're here for you."
Koons added that the turnout was more than she expected and they hope to continue this moving forward.
The event was one of the various festivities put on during Illinois State's welcome week to give Freshman and transfer students a taste of campus life.
Anthony Ferretti contributed to this story.
---