---
NORMAL – On Wednesday, the Publications Unit in the Department of English hosted a book launch celebration at the Williams Hall Annex for University Professor Tim Hunt and his new book, Ticket Stubs & Liner Notes. Many fans, including family and friends gathered to show appreciation for Hunt and his work. The festivities started with Hunt talking a little bit about himself, followed by him reading some pieces out of his book and concluding with some questions and comments that the audience had. Tim briefly spoke about what his new book is about: 
"Ticket Stubs & Liner Notes is a collection of poems that evoke or deal with or draw on American music from the 1950's through the 1960's, kinda from the perspective of what it was like growing up with this music and listening to it when it was new, opposed to looking at it historically, after the fact."
Hunt, a graduate of Cornell University, has taught American literature at several schools, including Washington State University and Deep Springs College. He taught at Illinois State University as a University Professor of English until 2016. Tim has also claimed authorship for three collections: Poem's Poems & Other Poems, The Tao of Twang, and Fault Lines. 
Hunt explained what Ticket Stubs & Liner Notes truly means to him.
"Have fun…poems are a chance to engage in play so stop worrying about decoding and get in and see where the poem takes you. So because, I lived with the music as a kid but I know it now from another perspective and those two things collide, it makes me thinks about the era that shaped me."
Ticket Stubs & Liner Notes is now available for purchase through the Main Street Rag Online Bookstore. To learn more about it, please visit www.tahunt.com/ticketstubs. 
Nick Imparo contributed to this story.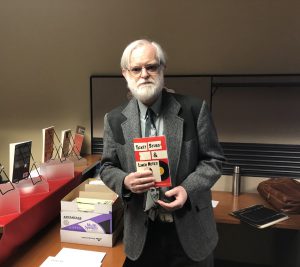 ---
Reader's opinions
---