Dining with Doyle
Dining with Doyle: Los Potrillos – September 8, 2017
An establishment that has been in the town of Normal for 12 years, Los Potrillos offers "real Mexican cuisine." Located at 201 Landmark Drive, the restaurant is one you might drive by but shouldn't.
With vibrant colors and eclectic murals, the establishment is warm and welcoming. There is plenty of seating with an outdoor patio as well.
This place is known for quick service and big portions. Just about anything you order will leave you full and for most you'll be leaving with leftovers.
"The customer is always number one…when they come to Los Potrillos they are going to be treated the best and we want them to leave happy and full," manager Carlos Vega said.
Lunch specials are offered Monday thru Friday, with a wide variety of other house specials. There are countless options, from burritos to the Acapulco especial; everyone can find an option.
I would say order the chicken fajitas dinner. It comes on a sizzling cast iron plate, chicken cooked with pepper and onions with a delicious blend of seasonings. With a side of rice and beans, the fajitas are served with tortillas along with sour cream and guacamole. This is a meal that can easily be shared between two people or can most likely be taken home with leftovers for the next day.
Los Potrillos receives a score of 4.2 out of 5.
Tune in every Friday at the bottom of the hour on 103.3 WZND and WZND.com for a new edition of Dining with Doyle with WZND reporter Neil Doyle.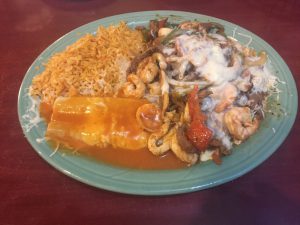 WZND Newsroom
September 26th, 2017
No comments